We're All Animal Lovers!
The people nominated and elected for board positions are those who have made a commitment as volunteers to serve in two year terms to help guide and provide vision for our organization.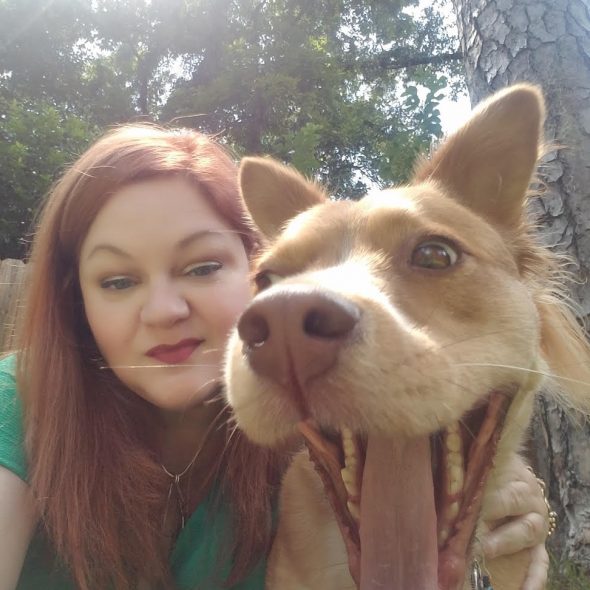 Laura Johnson
President
Laura came to Tallahassee in 1994 to attend Florida State University, and she loved the city so much that she made it her new home. She has worked for the local Florida Blue office for more than 15 years and
has a long history of community volunteerism, beginning with the local shelter in her hometown of Crestview, Fla. She spent 10 years on the board of directors at Big Bend Cares and is an active volunteer with the TMH Animal Therapy Team and the Disaster Animal Response Team (when needed).
Laura and her partner Brian have been volunteering at Humane Society events and fostering LCHS dogs since 2012 with the help of their furry "home team," including: Miho, their ornery rescue Siamese Cat from the Muskogee Co. shelter; Wren, the formerly feral rescue dog from LCHS; and Callie, the Bainbridge Humane Society dog with whom Laura makes Animal Therapy visits.
---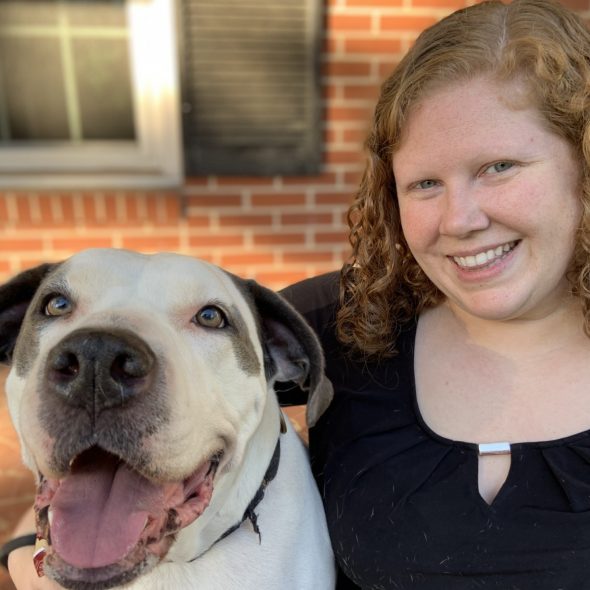 Mallory Davis
Secretary
Mallory Davis and her husband James began fostering shortly after they lost their bullmastiff, Gibbs, in 2014. Their first foster was a 175-lb English mastiff named Tank that needed a foster after opening a fridge and cleaning out the contents. Since then they've fostered more 50 dogs and have only failed twice, keeping Catan and Boss. In addition to fostering large dogs, Mallory volunteers with the kitty care program and serves on the Furball committee.
Beyond her work with the Leon County Humane Society, Mallory volunteers with the City of Tallahassee Animal Services as a Level 4 and playgroup volunteer. She is also a member of the Pilot Club of Tallahassee and serves in various board positions, including the state district level as the coordinator for the youth division.
A graduate of Florida State University's Dedman School of Hospitality, Mallory has been in the hospitality industry for more than 15 years and recently moved into human resources.
---
Megan Federico
President-Elect
Megan brings 15 years of dog experience from her dog daycare, Camp MoJo's. While her original intent was to use her FSU degree in psychology to study law, she fell in love with dog care in 2006 and grew from an inexperienced dog lover to business owner, even earning her CPACO certification (Certified Professional Animal Care Operator) in 2018 showing her dedication to animal care and continued learning.
Megan and her partner, Jerritt, are proud rescue parents to two handsome hound dogs, Hammy and Sal, both adopted from Last Hope Rescue. Their average is four dogs at a time, though sometimes they've had up to six (if you include fosters)!
Though dogs and rescue are her passion, Megan also makes time for running, reading, true crime entertainment, meditation practice, bird watching, and trying to keep her houseplants alive.
---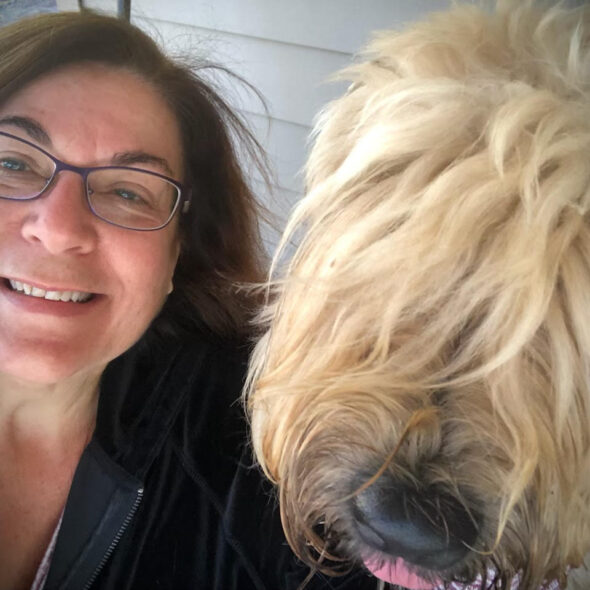 Jan Dobson
Treasurer
Jan's compassion for animals developed early. Her childhood household included dogs, fish, turtles, guinea pigs and more. While a teen, this longtime Tallahassean was a Leon County Animal Shelter volunteer. Since then, she has found joy in volunteering with many local organizations.
Jan and her husband Bill have two grown sons. The couple currently shares their home with two adopted pups – senior terrier mix Abby and rambunctious Declan, a soft coated wheaten terrier. There is a special place in Jan's heart for feisty terriers of any kind and most especially for wheatens. Today she serves on the Soft Coated Wheaten Terrier Club of Greater Tampa Bay board of directors.
Before retirement, Jan was a certified not-for-profit executive and communications professional. She also taught obedience classes to dogs and their humans, apprenticing for one of Tallahassee's premier animal behaviorists.
These days Jan and her friends (human and furry) hike (and in some cases sniff) local park trails together. She also enjoys gardening, traveling and making pottery.
---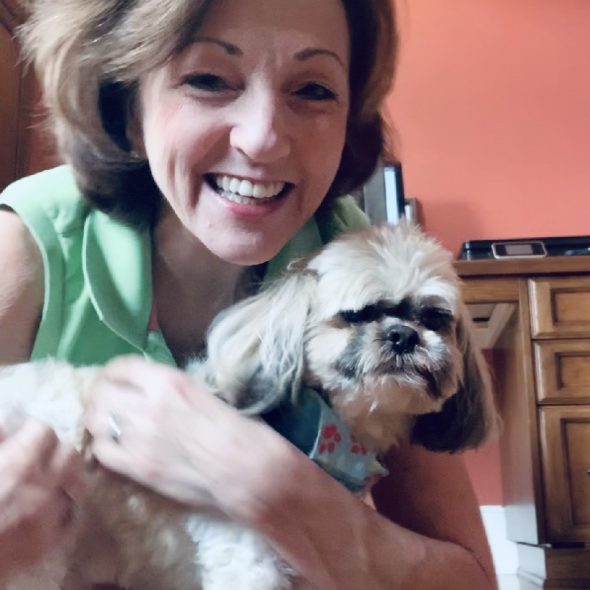 Debbie Hanerty
Board Member
Debbie Hanerty has been on the LCHS BOD since 2017. For over 4 years, Debbie has volunteered weekly at the Leon County Humane Society, assisting with reception and customer service. For the second year in a row, Debbie's co-chairing the LCHS Fur Ball, and she's opened her home to LCHS Donor Celebrations. She volunteered with the 2019 "Biggest Little Dog Rescue", at which time she met her first LCHS foster dog, Chester, who became a forever family member.
In addition to Chester, and her other rescue pup, Henry, Debbie has two sweet grandchildren, William and Andrew, who she cares for several times a week. Debbie has one beautiful daughter, Molly, with her husband, Mike, of 39 years.
During their life together, Debbie and Mike have lived in Ohio, Florida and Colorado. They've moved 9
times, most recently to Tallahassee to be closer to their daughter and grandchildren. We hope they choose to make Tallahassee their final destination!
During Debbie's professional career, a few of her titles have included travel agent and research assistant. Debbie also worked at Progressive Insurance for over 10 years. This is where she met her sweetheart, Mike.
Debbie's volunteer service is impressive with 5 years spent as a Docent at the Cheyenne Mountain Zoo in Colorado Springs, providing educational tours to schoolchildren and one year at The Cleveland Zoo. She's also spent significant time at Penitentiary Glen Wildlife Rehab, and Fieldstone Farms Therapeutic Riding Center. Besides working with animals, she volunteered at her daughter's various schools, usually in fundraising. She also did many stints as Hospitality Chairperson, hosting events for the various organizations.
As a true team player, we hope Debbie's most recent volunteer home, LCHS, keeps her coming back for many years to come!
---
Amy Roach
Board Member
Amy moved to Tallahassee 37 years ago from Greensboro, Fla., a small country town just west of Leon County. She began working at Florida State University in the Controller's Office for several years, then accepted a position with the Florida Department of Revenue, where she currently holds the position of Auditor. She's been with the agency for 35 years.
Amy's love of medicine for most of her life earned her a spot with Tallahassee Memorial Healthcare, where she began volunteering in the Emergency Department. She currently holds a position in the Pediatric Department/Children's Center where she has worked for 13 years.
She enjoys animals immensely and currently has Annie, a rescue Miniature Schnauzer, and two rescue kitties, Harley and Ethel, who was adopted from Tally Cat Café. Amy is a frequent volunteer at the Café, which houses beautiful adoptable kitties in partnership with LCHS. She always encourages everyone to come experience a relaxing atmosphere while getting lots of kitty cuddles and enjoying some wonderful drinks and pastries.
Paying it forward and helping others is something Amy strongly believes in. In addition to her active support of LCHS, she has been a Disaster Services volunteer with the American Red Cross for the past 18 years. As a strong advocate for children, she served the 2nd Judicial Circuit as a court-appointed Guardian Ad Litem (GAL) for 7 years. At the end of her time as a GAL, Big Bend Hospice welcomed Amy for several years on the team of volunteers in the very special position as a member of the Vigil Watch Team, which is the group of people who are with patients in their final days of life. Amy has also been able to share some wonderful evenings with the Tim Tebow Foundation, Night to Shine events, celebrating people with special needs for a lovely Prom night.
Celebrating her Native American Heritage, Amy greatly enjoys attending Pow Wows of the Eastern Band Cherokee Nation and Intertribal Pow Wows.
---
Margarette Bayron-Arcelay
Board Member
Margarette arrived from the beautiful island of Puerto Rico to pursue a PhD at Florida A&M University (FAMU) School of the Environment and has called Tallahassee her home for nearly five years. Her love for animals developed early, sharing her childhood farm house with dogs, cats, sheeps, horses, ducks and chickens among other four-legged critters. She also always felt a connection with the environment and was eager to learn about conservation and preservation of the ecosystem.
Margarette expects to defend her Dissertation in Fall 2022 and currently spends much of her time in white robes working on her research and mentoring undergraduate students at FAMU. In addition to her career, she enjoys volunteering with her husband Jose, who she met while he was pursuing his graduate architectural studies at FAMU. They both are active volunteers with the Humane Society and enjoy spearheading fundraising events so LCHS can continue its important mission. Margarette is eager to help shape the future of LCHS and offer a different perspective to the board and the organization. She also wants to help build a robust foster community in Tallahassee and Leon County.
In her spare time, Margarette enjoys fostering LCHS pets, gardening, cooking, crocheting for her small business, Fil Sur Crochet, and supporting local businesses in Tallahassee. They currently share their home with two LCHS "graduates," Enzo – a hound mix – and Pinot – the boss lady chihuahua mix.
---
Sandi Poreda
Immediate Past President
Sandi Poreda, APR, is the president of Bulldog Strategy Group, a local public relations firm that specializes in crisis management. Being the president of her company means she sets the office pet policy, which means at least one of her three rescue dogs - Charley, Brady and Ella - comes to work with her on a regular basis.
In addition to her work in the public relations industry, Sandi volunteers, fosters and fundraises for local animal rescue organizations; she also serves on the Board of Directors for the Capital Area Chapter of the American Red Cross. She earned her Bachelor's Degree from Florida State University, where she currently serves as an adjunct professor for the College of Communication & Information.
Sandi and her husband Jason met at the dog park (Charley was Sandi's dog and Brady was Jason's) and rescued a runaway dog on their first date (she was chipped and returned to her owner!). A few years later they found Ella... a few more years later Sandi named her company after Ella, and the rest is history.
---