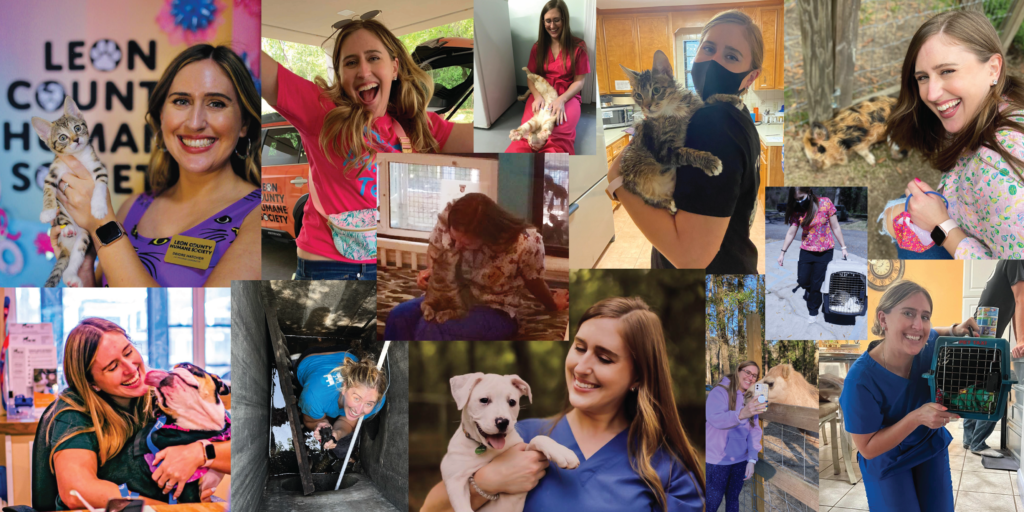 It's with great sadness that we'll soon prepare to bid farewell to our Cat Program Coordinator of 7 years: Deidre Hatcher. Thanks in great part to Deidre, we've seen our annual cat intake double during her time with us. She's earned the reputation of being a champion for those cats in need of some extra TLC. Whether it's cats testing positive for FIV or fearful felines who exhibit as "just a little scared" upon intake and are later labeled "Deidre cats"; she's a hero to those in need. She never shies away from a challenge.
At the drop of a hat, Deidre is always game for a rescue. From large scale missions such as hurricane relief, to smaller lifesaving feats including late-night trapping, jumping into a storm water drain to retrieve kittens, or sleepless nights fostering the most fragile days old kittens – she's always been game for it all. Deidre has made a difference in countless lives while at LCHS, both human and animal.
If asked about Deidre's greatest attribute when it comes to her work, we'd have to give two; her compassion and her eagerness to continue learning. In this field, it's difficult to avoid fatigue and burnout (physically, mentally, and emotionally), yet even during the most challenging times and after the most tear-filled days, she comes back for more. If asked why she returns, Deidre's answer is always the same: "because they need us".
She'll be missed dearly, but we're excited to see what's next in store for Deidre on her journey in the animal welfare field. She'll undoubtedly continue to make a positive impact in the lives of cats and dogs moving forward.