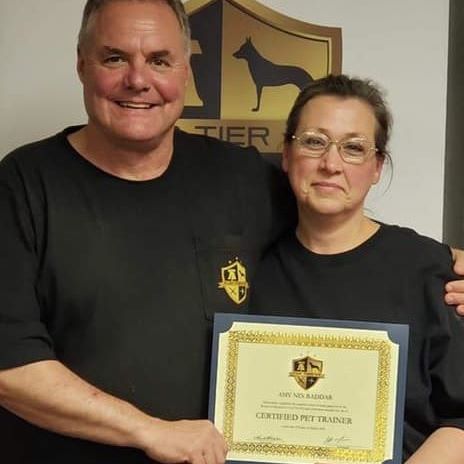 Congrats to our Dog Program Coordinator, Amy Raddar!

Amy has been working even harder than usual lately, which we didn't know was possible. On top of managing our dog program, she's dedicated many hours of studying, training, traveling, and testing to be able to bring a new level to what she does for our dogs at LCHS.

Yesterday, all her hard work paid off as she passed her final exam and became a certified pet trainer through Top Tier K9.

We know this certification will help many more dogs find homes and will help serve the community! We're so proud of Amy and this step she took to improve and save the lives of dogs.

In Amy's own words: 

One of the hardest realities in rescue for me has been accepting the truth that I can't save them all, no matter how hard I try, and how many people I align myself with. The fact that good dogs die each year, simply because they're average looking and over 40 pounds, is something I've struggled to wrap my head around. In 20 years of rescue, I've tried repeatedly to spotlight these dogs in an effort to make them more appealing in the eyes of potential adopters.

Training is the piece of the puzzle that holds the ability to make an ordinary dog stand out. Unfortunately, most training methods are harsh or they take too long when you consider that time is valuable and it's something homeless dogs don't have on their side.

Last year, I stumbled upon Jeff Minder with Top Tier K-9. I've been fortunate to spend the last three months training under Jeff and learning more about dog behavior and training than I could imagine. His course has been life changing for me and I hope it will prove to be life changing for many dogs to come. This method has taught me a fair, yet effective way to train even the most difficult dog. My goal is to build a small army of trained dog fosters to help transform the homeless nondescript larger dogs into trained companions desired and sought after by adopters. Thank you so much to Jeff Minder and Top Tier K-9 for the guidance, experience and continued support, I'm so excited about the future!