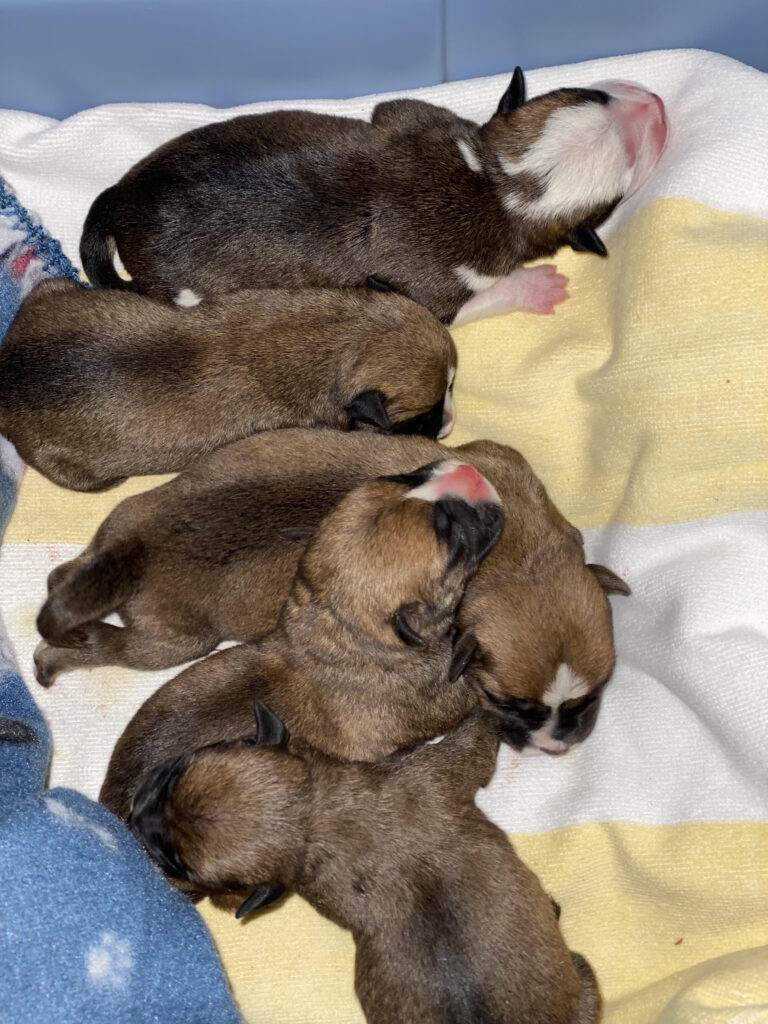 Five puppies were found in the woods Sunday night, and thankfully on Wednesday, after 3 days of sleepless nights for our bottle baby fosters, mama was found. Even the most talented and experienced bottle baby fosters can't give them as good a chance of survival as their mother, so we brought all the babies to Mama. After the panic wore off, Mama's gratitude and relief was palpable as she raced between the humans who reunited her and the puppies she wanted to care for, and she loves showing people how lovely her babies are now that they're warm and fed.
These puppies followed 6 others who had found their way to us the week before, bringing the total number of puppies so far in 2022 to 32, which leaves us apprehensive. Puppy and kitten season is supposed to be during the Spring, and lessen in the winter, but over the last 12 months we haven't felt the wave diminish, and the future promises to be challenging.
The cat program has also been busy, with nearly 40 kittens entering the program this year, bringing total number of intakes for cats, kittens, puppies, and dogs to 166 animals, and it's not even March yet!
With all the puppies and kittens we've already taken in, we're low on many of the supplies we need, and they're not slowing down.
Please consider a donation of Royal Canin Mama Cat and Kitten wet food, non-clumping litter, kitten formula, puppy formula, wet and/or dry puppy food, and puppy training pads through our Amazon Wishlist to help us save as many as we can this Spring. We can only say "yes" to animals in need when we have enough resources to take them, so these items are essential.
Unable to donate? Consider fostering. If you have a spare bedroom or bathroom and love to give, you're a candidate.
We cover the vetting, food, and supplies for your foster animal. Interested? Start with filling out a foster app here.
You can also click the button below to make a financial contribution through our secure site.